Graphic documentation can by now be considered in all respects a method of cognitive study on a par with other non-invasive systems that aim to improve the knowledge of an artefact of historical and artistic interest. Given the fact that graphic documentation is not just a mere uncritical survey of the monument, but a specific exemplification of it, we can proceed to analyze the individual components that make up the present structure of the cloister of Ss. Quattro Coronati.
The specific case of the cloister restoration project finds itself at the center of a wider and wider conception of the meaning of graphic documentation. The work group was presented with the problem of having to analyze the monument in its minutest detail and once the survey had been started up in the traditional manner, it was necessary to plan a series of cards that are only partially comparable to existing examples. With the aim of obtaining useful data for planning purposes, the cards had to contain all the information essential for defining the restoration project, from historical references and principal dimensions to data concerning the state of conservation. It was for precisely this reason that the card system has been referred to as a "worksite card system".
Although the cloister is by now recognized as an indisputable figurative whole, for reasons of planning, it represents a composite body made up of a number of diverse elements. Those that require more detailed analysis are: the archeological pieces positioned in the corridors, the coupled columns with their respective bases and capitals, the slabs supporting the columns (fig. 1), the painted undersides of the arches, the external crowning cornice made up of elements in brick ( bricks rectangular and with serrated edges), the marble corbels and the cosmatesque mosaic intarsia (fig. 2). The aim of collecting this data is therefore to identify the information that, once subsequently selected on a critical basis, will give the work group the indications for drawing up as definitive project as possible, consistent at the same time with the historical and conservation characteristics of the cloister.
© 1999 Coordination Monica Morbidelli
© 1999 Altair 4 Multimedia
© 1999 All the material on this site is under the copyright of Augustinian Community of
the Monastery of Ss. Quattro Coronati
Webmaster: techaltair@altair4.it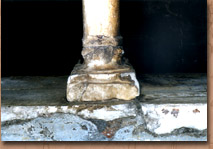 Fig. 1 - Detail of base of coupled columns and supporting slab.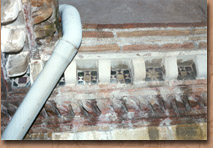 Fig. 2 - Detail of corner of external crowning cornice with serrated-edged bricks, white marble corbels and cosmatesque mosaic intarsia.